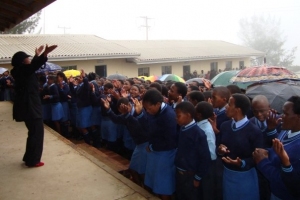 Holy cow... saying goodbye totally sucks. Yesterday we were invited to a goodbye assembly at Velangaye. It was so sweet. We were all given little presents (mainly jewelry and a really cool beaded HIV pin) and then each asked to say a few words. Man, I love it when they ask me to speak at the last minute…but not really. So I did my best to shout over a crowd of 1600 students and tell them how much I love them and how proud I am of them, etc.
After the assembly, we had a little gathering with our 23 students that we've been working with for the last 5 weeks. We gave them each a certificate of achievement for the Point of Light Leadership Institute, and bags full of notebooks, pens, and of course their favorite treats. We then went around the room and had each of the students say what their favor part of the experience was. Over 50% of the kids said that playing with the kids at Sizanani was their favorite. I, of course, was thrilled to hear this. I then shared a couple of my favorite quotes with them:
"To the world you may be one person, but to one person you may be the world." – Author?
"Be the Change you want to see in the world" - Gandhi