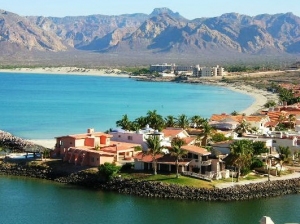 I'm home now! Kind of a bitter-sweet feeling. I had such a good time in Mexico.
On the last day (Thursday), we went to the beach in San Carlos. It was absolutely beautiful -- there's no way the pictures I took do it justice. The beach was packed with people because it's Holy Week, which I guess is a pretty big holiday for them. Unfortunaley the water was spotted with jelly fish. I was too nervous to spend too much time in there, so I just went in for a little bit. I spent the rest of the time walking along the beach, tidepooling and laying out.
Afterwards we went to a place called froggy's and all had dinner as one big group. A mariochi band came in and played us some music while we ate. We didn't want to go back to Hermosillo just yet, so we decided to walk around and found that that was the thing to do. Herds of people lined the streets and as we walked up a down the streets we would stop and dance and laugh and just have the best time. It reminded me of spring break in St George cause there was nothing particularly special about the street, people just hung out and partied all night.