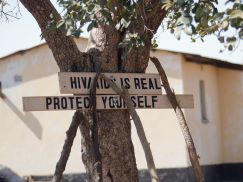 I had to tell a young girl that she is HIV positive today. I can't even describe to you how unbearably heartbreaking it was.
There was a team of caregivers going to a high school to do peer education (teach about HIV/AIDS etc) and then offer VCT (Volunteer Counseling and Testing) so I tagged along. I knew I wouldn't be able to understand the speeches made by the caregivers, but I at least wanted to go to the assembly/panel and see how the students responded and offer my help in doing testing if they needed it.
The assembly was really great. The students interacted with the caregivers, asked pertinent questions and seemed genuinely interested in learning more about the transmission of HIV, testing for it, etc. Towards the end, I suppose the students were itchin to know who the blonde-haired blue-eyed girl on the stage was, and so asked the panel if I would get up and say something to them. Goodness, I was so caught off guard. Of course, I didn't have anything prepared and being that the entire panel was speaking in Zulu, I had no idea what the caregivers had already told them, so I didn't really know what to add. Despite this, one of the caregivers encouraged me to get up and say something, because he said they "just wanted to hear my voice."